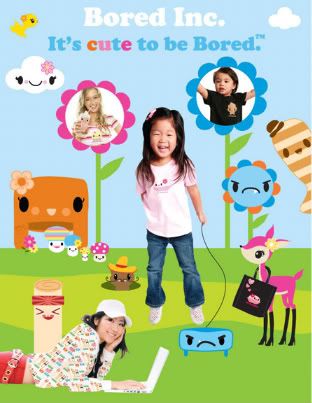 Here's a bit of a Courtney update, as I realize I always forget to let everyone know what is happening in the world of TokyoBunnie / Bored Inc!

It's Monday (blah), and I only have one week left until I head to Las Vegas to exhibit my line at the Pool Tradeshow. Tradeshows are extremely important for me, since it's the only opportunity I have all year to showcase my line to new buyers. Since my company is so small, I handle all the marketing and sales right now, which, as you can imagine, severely decreases my design time. Plus, I'm really not a natural salesperson, and prefer to be "behind the scenes" of the whole sales affair. With the state of the economy, I don't really know what to expect from the show, but I am keeping a positive attitude. I just looked at the floor plan and saw that I am only a few booths down from one of my favorite companies, Poketo, so that's cool!

Forgive me if my posting is a bit sporadic until I return next Wednesday. I still haven't built my booth, and there's catalogs and marketing materials yet to be printed.

Aside from the show, when I get back I'll have lots of cute new things for sale in my store that I hope you'll all like!

I have been getting so many nice comments and emails lately from all of you, and I can't tell you how much I appreciate it. Thank you for reading my blog, and for your continued support of Bored Inc.!

XOXO!