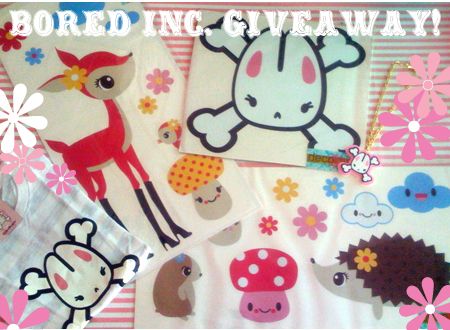 Woo-hoo this is my 900th post! Also, Happy April Fool's Day!

To celebrate, I am hosting my first giveaway! This is a giveaway for Bored Inc. products. If it goes well, it will be the first of many TokyoBunnie blog giveaways!

Here's how it's going to work. Enter a comment below and you are entered into the drawing once. Post about the giveaway on your blog (and let me know by including it in your comment or e-mailing me) and you get entered 3 times!!

This giveaway is for the following!

1 TokyoBunnie Wall Decal
1 Deer in Boots Wall Decal
1 Hedgie & Hamsters Wall Decal
1 TokyoBunnie Acrylic Necklace
1 TokyoBunnie T-Shirt (I have S-XL, just let me know what size you'd like)

It's open to international readers too, so everyone can enter!

The giveaway ends at Midnight, April 10th so be sure to leave your comment by then!

I want to sincerely thank everyone for reading my blog and all your nice emails and comments- they really make my day!

Goodluck!
XOXO!