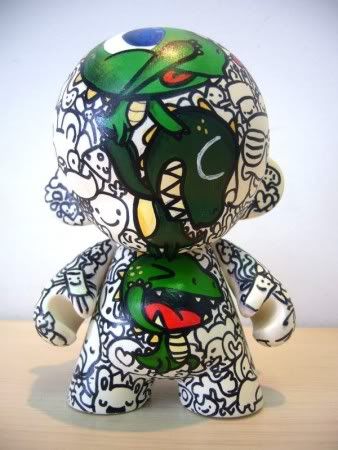 Mutation: a vinyl show
August 15th through September 5th, 2009
Opening Reception: Saturday, 15th of August, 7:00 - 10:30pm

*Image above is PodgyPanda's piece for the show*

From the Press Release:
Los Angeles – Black Maria Gallery is proud to present "Mutation", an exhibition featuring a selection of some of the most sought after artists in the art toy scene today, proving that vinyl is the new canvas. Participating artists include: 64 Colors, Brent Nolasco, Bryan Collins, Button Eyes, Camden Noir, Draifet, Jeremiah Ketner, Kalypzo, Kat Brunnegraff, Kendra Binney, Kill Taupe, Motorbot, Mark Basa, Nathan Hamill, Okedoki, Podgy Panda, Reactor 88, Rosie O'Donnell, Shaun Wightman, TyleR & Zombie Monkie.

Urban vinyl toys have been saturating the art scene for the past several years. Some pieces have even become part of permanent collections in museums such as MOCA and recently sold via high-end auction houses like Christie's, commanding thousands of dollars.

A hot generation of vinyl toy artists has been steadily infiltrating the art scene with their unique visions. These designers take a common "platform" toy, and through their creative and sometimes wicked sense of imagination, transform what is ordinary into the extraordinary. These pieces mutate into a custom art object, becoming highly sought after and truly one of a kind. In the custom vinyl world, there are no limits on what can be created.