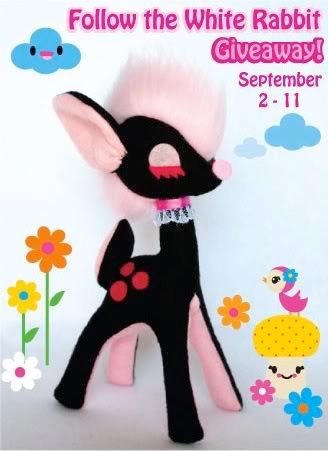 Emily is an animator who creates some of the cutest plush I have EVER seen. Her Etsy shop is filled with deer, ghosties, lolita dolls, and more.

I am SO excited for this weeks giveaway, and wish I could keep this cutie all to myself! Emily will give one lucky TokyoBunnie blog reader this super adorable black and pink plush deer, complete with a pink mohawk!

Check out Emily's 'Follow the White Rabbit' Etsy shop, her blog, and browse her amazing Flickr portfolio.

To enter:
Post your comment below, once for each entry. Multiple entries are permitted for each time you post about this giveaway on your blog, twitter, myspace, facebook, etc.
Please make sure I have a way to notify you if you win!
Please post your comment before midnight Friday, September 11, PST.

Goodluck everyone!