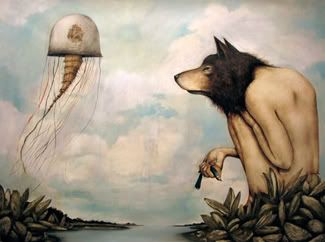 'Natural Wonders'
Jeremy Lynch, Kevin E. Taylor, James Roper
Friday, November 13th, 7-10pm

From the Press Release:
LeBasse Projects warmly welcomes Jeremy Asher Lynch, James Roper and Kevin E. Taylor to the gallery for a three person show of new work. Though very different in their approach all three artists bring us their outlook on the changing environment and world around us.

UK based James Roper's work explores a variety of subjects including the restraint and release of energy found within complex structures such as the human body. Florida native Jeremy Asher Lynch's mixed media works often juxtapose both illustrative and abstract techniques while creating beautiful paintings which often carry a darker subtext. Kevin E. Taylor comes to the gallery from San Francisco where he has been working on a series of paintings that force the viewer to re-examine the relationship between man and the natural world around him.