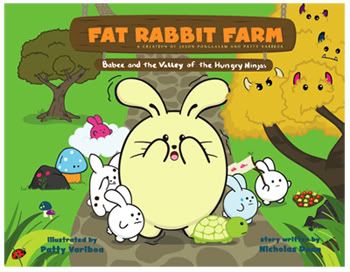 Fat Rabbit Farm's
super-cute character Babee is starring in an awesome new storybook filled with ninjas, cupcakes and fun! This book will be a delight for any age as Babee's story unfolds with the help of some really adorable illustration work!
Babee and the Valley of the Hungry Ninjas
is available now through an exclusive pre-order that includes a signed copy of the book plus a tee!
From the press release:
In their first shared adventure, Babee and Blanket discover a
hidden treasure map leading to the Legendary Golden Cupcake, which is known to be heavily guarded by a group of fierce and dreadful guardians called the Hungry Ninjas!
Can Babee and her friends brave through what lies ahead of them and safely cross the Valley of the Hungry Ninjas?
Will Babee finally get her furry little paws on this mysterious Golden Cupcake?
Pre-order yours
here
!