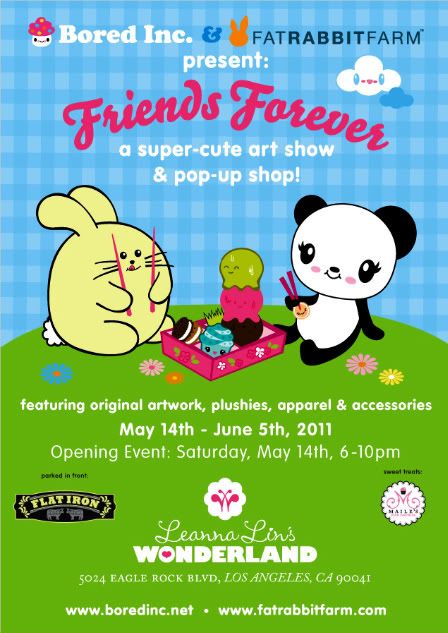 I am SO EXCITED about our upcoming show at Leanna Lin's Wonderland! Leanna and I chose the theme "Friends Forever" based on Bored Inc's popular Stinky Poo & TP design that we sell on tees & accessories. I'm happy to say we've taken the theme to a whole new level, and the show will include giclée prints, original handmade appliqué art pieces and one-of-a-kind plushies!
I asked my pals over at Fat Rabbit Farm to take part, and I can't wait to see what kind of cute bunny-awesomeness they have in store for us!

I'm flying down to LA for the opening, happening May 14th from 6-10 pm. I'm still recovering from spine surgery, so I can't promise I'll be there the whole evening, but I'll try! If I'm not, my awesome mom (and co-owner of Bored Inc!) will be there to represent.
There's yummy food trucks too, so come hungry!

RSVP to the Facebook event here.

I really hope to see you there! If you can't make it to the opening, the show will be up at Leanna's until June 5th.