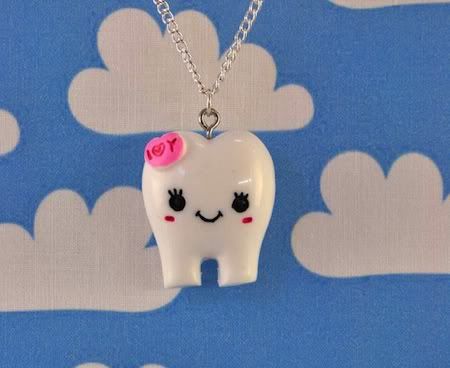 I'm excited to welcome the newest TokyoBunnie blog sponsor, twobadbananas! Sweet handmade necklaces, charm bracelets and earrings featuring kawaii charms!

Find twobadbananas on Etsy, Facebook, and Twitter!

From the press release:
Fimo Fruit with Faces, Detailed Doughnut Delights and Scintillating Sushi. Catherine Armitage's original, fun, bright and quirky jewellery designs are Kawaii inspired, and are a combination of handmade Fimo and ready made charms.

twobadbananas is one of, and the first, of the two jewellery lines Cat has been trading as for the last two years. She is completely self taught, and is fairly new to jewellery making, although Cat started using Fimo as a child to make food for her Sylvanian Families, as she was worried they would starve.
Cat's inspiration for her collection comes from the Kawaii innovation of taking every day inanimate objects and making them fun and interesting. "I don't know why but I've always liked toadstools," says Cat when asked about her designs choices, "I think things just look better with faces on... there is nothing better that when you hear the words, 'Oh my God, look, that carrot has a face!'

Handmade cupcake and doughnut charm bracelets, toadstool and ice cream rings, wee and poo earrings (with faces) are amongst her Fimo repertoire, whilst the happy toast charms, junk bracelets and jingle bell animal necklaces demonstrate her taste and ability to select and combine fabulous ready made pieces and turn them into original wearables.
She loves the brave, bold and cheeky; as colourful as possible. Cat's fruit and vegetable collection, despite the painstaking process of making charms from Fimo, demonstrates not only her precision and patience as an artist, but also her love for her creations. All her charms have been affectionately named and personified; Lyndon the Embarrassed Lime, Dardan the Solemn Pear and Alfie the Happy Apple to name but a few.
twobadbananas jewellery is a subtle way of donning the Japanese zeal for colour and cute; the diverse designs, elegant and fun, can be worn as the centrepiece to an outfit on a night out, or (in)appropriately accompanying a suit to work...

Break away from mainstream fashion and indulge your personal sense of style and humour!