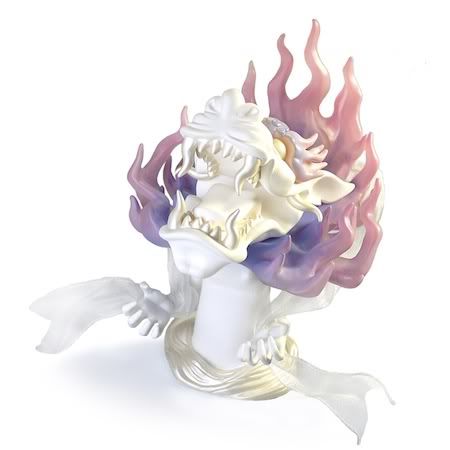 Gorgeous new vinyl toy release coming March 26th by Munky King! Here's the details:
SCREAMING FOR THE SUNRISE PEARL by YOSKAY YAMAMOTO
• Vinyl
• 6 inches tall
• Edition of 200
Munky King is proud to announce our brand new Pearl edition of Yoskay Yamamoto's popular "Screaming for the Sunrise", based on the original painting. Featuring pearly accents and pink-purple flames, this piece also comes with removable sheer ribbon and packaged in gold foil box featuring the original painting. This beautiful fourth edition drops March 26, 2012 only at Munky King store and online at www.munkyking.com . See it first in "Joke's On Me" by Yoskay Yamamoto, at Lebasse Chinatown this weekend.