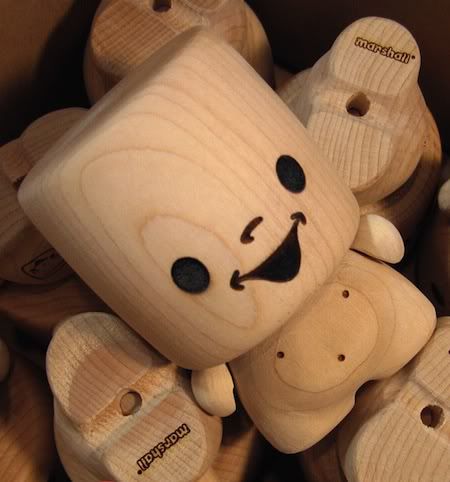 An awesome maple version of 64 Colors' iconic Marshall is now available in their webshop. Get him quick, this is an edition of only 10!
Here's some details:
• Made from Solid Hardwood Maple
• Head (rotates 360°) is 1 piece turned on a lathe.
• Body and arms (arms move too!) are each one piece, both machine and hand carved. Each arm is attached by dowel.
• The entire piece is then hand sanded and smooth to the touch.
• Shipping in USA included. International shipping is $9.00 via USPS first class.
Ooooooh! Feels so good you want to rub him all over! We did... with tung oil!
There are only 10 (Ten) Maple Marshalls in this edition. Each is similar but also slightly different due to the wood grain. So remember if you order, slight variations in your Maple Marshall will occur due to the personality of the wood and how the laser reacts to the maple. The kanji on the back varies as well.