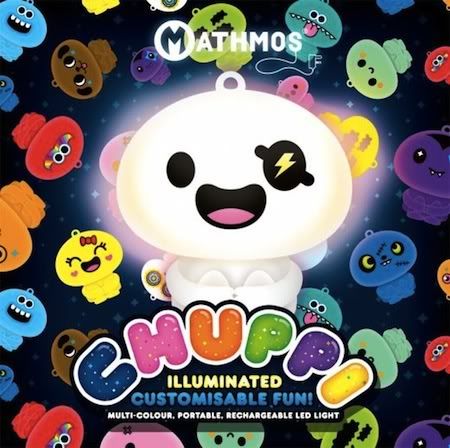 I am so excited about this adorable new product from Mathmos! A chuppi is essentially a customizable, toy inspired night-lite, that you can set to cycle through different colors! And the best part is that the adorable designs are by TADO!
From the press release:
Chuppi A customisable art toy, and a wireless colour changing light
Place Chuppi on his home to charge him up. Take him off his base and either set him on a single colour or let him to cycle through the spectrum. He will either fade off automatically after half an hour or set him to stay lit for up to 6 hours. Customise Chuppi with reusable stickers for 18 different characters.
Chuppi is a great gift for all ages and an adult's collectable art toy;
Chuppi is designed by Mathmos in collaboration with brilliant Sheffield based designers TADO. Mike and Katie of TADO have worked with Nike, MTV, Puma, Adidas, Vodafone, Elle Magazine, Star Wars, McDonald's, Microsoft's Zune, and Kidrobot. They produce graphics, animation, web design, designer toys and customized cars.
Chuppi is also a perfect childs night light; give Chuppi to a child to take to bed and either let it turn itself off after half an hour or slowly fade down during the night. NB. Whilst Chuppi itself is suitable for all ages the stickers should only be used by children over 3 years.