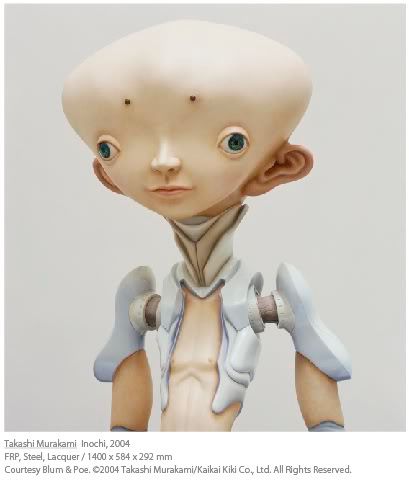 If you were lucky enough to see Takashi Murakami's travelling ©Murakami show, you probably saw a few versions of his robot boy, Inochi. Aside from some humorous videos featuring Inochi as he umm... heads into adolescence... there were some life size figurines as well.
Inochi is now a toy being produced by Medicom, and while production of the coveted limited edition figures has been delayed, Murakami's "Inochi" opened earlier this month in Japan. He gave a talk about his Inochi character over the weekend, and the Inochi figurines will be on display at the Kaikai Kiki Gallery until Thursday.

Murakami fun fact : aside from being an amazing world renowned artist, he is also a DJ! Every Sunday night since 2002, Murakami has been a DJ on a Tokyo radio station. You can download podcasts of the sessions here!