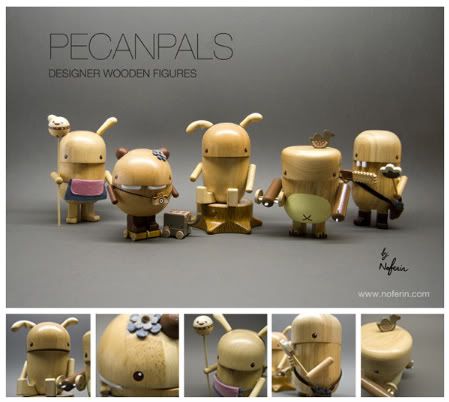 The lovely Noferin are releasing a gorgeous natural wood edition of their pecan pals. These beauties go on sale tomorrow (May 5th) at 3 pm PDT.

These toys are limited to 300 pieces. Each piece comes with a poster, and each full set comes with a complimentary hand cut, hand pressed varnished wooden print.

Here's some info about the sustainable wood used for these toys:
Pecanpals are made from 100% sustainably harvested wood. They are made from rubber tree wood that would otherwise go to waste. Rubber trees are planted for their rubber, and after about 20 years, their rubber yields start to diminish. We use this beautiful wood, thus saving it from the fire pit.

No two Pecanpals look the same. They all have very unique markings due to the wood grain. Some are spotted, some have a marbled look, some are a mixture of the two.

More information and purchasing info is on Noferin's website, here.