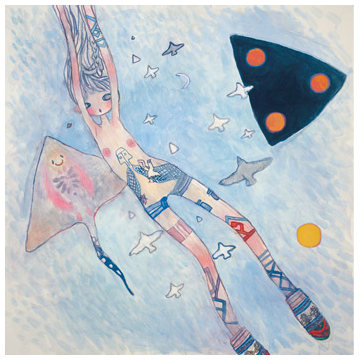 Better late than never I suppose... but if you want to check out this new Aya Takano exhibit in New York you better hurry- it ends December 12th!

One of my favorite artists in the KaiKai Kiki artist collective is Aya Takano. Her now show, Reintegrating Worlds, at Skarstedt Gallery, looks absolutely stellar.

Excerpt from the press release:
Skarstedt Gallery is pleased to announce Reintegrating Worlds, the first New York solo exhibition by Japanese artist Aya Takano. The show is comprised of fifteen new paintings, all created this year for the exhibition.

In her latest body of work, Takano continues to develop her own unique visual style by combining traditional Japanese imagery with those derived from science fiction, as well as impressions of modern Japan. More specifically, many of the works in Reintegrating Worlds are inspired by the cultures of the Amami Oshima Islands off the coast of Southern Japan and the ancient Ainu people. Derived from the traditions of these early hunter-gathering societies, Takano's paintings depict images of figures, animals and sea creatures interacting together in a highly imaginative landscape. Her signature long-limbed young girls are still evident levitating in space and participating in ritualistic activities that are both erotic and utopian.

Says Takano, "Lately, I've come to live in closer proximity to animals and the feeling hit me suddenly that humans and animals used to be much closer – we depended on them for food, shelter, and transport, or at the very least shared those things with them. There used to be more of them around us."

Takano incorporates indigenous motifs informed by photographs from Sakyo Komatsu's field guide of the world's ethnicities. Adorned with tribal masks, headdresses, and tattoos, the figures display vestiges of primal customs and rituals as they are swimming, playing, and working in nature. As in her earlier works, Takano's new paintings express particular moods in a cartoon-like manner as the figures lack anatomical details, as well as due to the painting's continually shifting perspective. Each scene is overflowing with symbolic details and folkloristic aspects derived from a range of sources, which Takano has integrated seamlessly together, continuously evolving her own unique pictorial language.