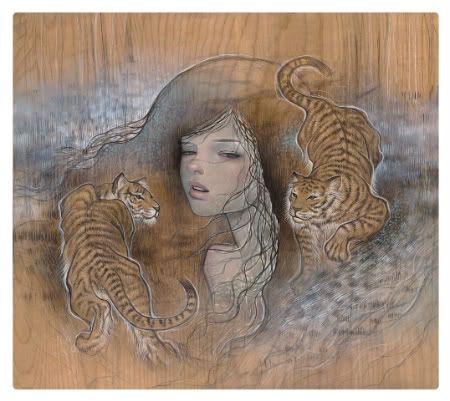 'Tiger Tiger Burning Bright' opens tonight, May 14th at
Roq La Rue Gallery
in Seattle.
From the press release:
"A group show based around the theme of tigers, inspired by the dynamic poem " The Tiger" by visionary artist and painter William Blake.
Additionally, 2010 is the Year of the Tiger in the Chinese calendar, and the animal is a very visible example of the environmental problem of habitat loss and rampant poaching, with the reported last wild Indochinese tiger being killed and eaten in December 2009.
We've asked a group of artists to create works inspired by this majestic, tragic, and beautiful creature, whether on a symbolic, metaphysical, or archetypal level or as a touchstone for deep contemporary issues.
Artists: Audrey Kawasaki, Robert Hardgrave, Travis Louie, Lisa Petrucci, Isabel Samaras, Robert Burden, Jason D'Aquino, Nouar, Jim Blanchard, Angelique Houtcamp, Bob Dob, Anthony Ausgang, Ann-Marie Manker, Yumiko Kayukawa, Jaw Cooper, and more..."