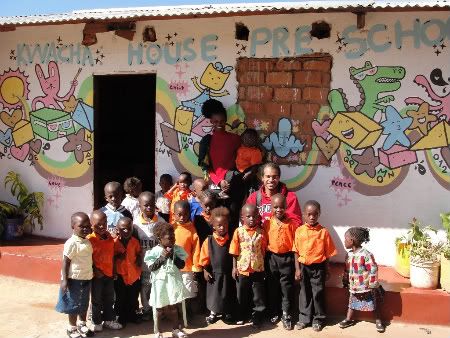 I received a fantastic, inspirational e-mail that I am so excited to share. Instead of trying to paraphrase this story, I am simply going to copy it here, so you can experience it the way that I did when I first read it.
To see more images,
go here.
>>>
Sooooo my name is Danilo (Zéh Palito). I am 24 year old and I am from Brazil. I started to paint in the street in 2001.I am graduated in graphic design, but during my life I just worked with development.
During 4 year I worked at an NGO, that work with poor families, especially woman's , old peoples and children. There I was art educator. I gave some class about art to children and talked about development and social issue with then. During this 4 year, I started to love work with the children.
And 2009 I moved to USA, Michigan to study development. There I spend one year, studying and working at homeless shelter and working with young peoples in Detroit.
And 2010 I did a volunteer work in Africa Zambia. There I worked with one NGO, ( DAPP-Development Aid People to People). There I worked with water and sanitation, during the week. And during the Saturday I did some art class to the children. And every Sunday I just took my bike and painted somewhere there.
There I started this small project called "SPREAD", my idea was just spread as more I could. Spread 3 things that for me is so important. PEACE.LOVE. FUN. I painted many places there, with the focus of spread some message, and leave something to then. Every paint that I did, I wrote, positive words in English or local language. So wherever they saw the paint they could get some power or happiness from it. I always tried to paint something, that couldn't make any hurt to then or change then environment. Never paint something that they could ask why this foreigner painted this in our village. And many places I had to talk with the owner of the house and the red master of the village, to ask permission.
About painting there. The beginning was nice, because, I had material that I bought in USA. But when the material finish, was kind of hard times…ehehhehe
My place didn't have electricity, was hard to get water. so imagine paint,..kkkkkk .So one time per month I had to move to the capital Lusaka, like 10 hour by bus, to get the paint. And there I couldn't find spray paint, just black, white, red and blue, but very expensive and bad quality. And also any small roller paint. So I started to paint just with brush. Was nice, I could learn many things using just brush.
I think this trip was an amazing experience. I lived one life in 6 month. Many volunteers go to Africa, thinking that they are going to help peoples there, of course most of then they do it. But I think I learned more from then. There every day is a new life is a new lesson. I learned to enjoy every moment, situation, place, person. And don't complain about things, or think that I have a problem, life has any problem, life is just beautiful.
I arrived at Brazil 2 weeks ago and my father house has internet so I would like to share this experience with you guys. I send you guys also some pictures, I hope you guys like.
>>>
Isn't the power of art tremendous? Everyone who sees these murals will remember Danilo and the power of the message he wanted to spread. These happy, bright images bring cheer and love to everyone who looks at them.