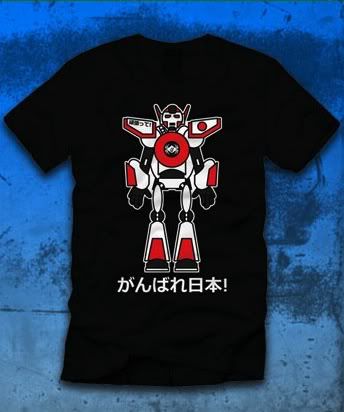 Crazy Go Lucky is featuring a cool new tee to help support efforts in Japan.

From the press release:
This is a special edition t-shirt that was created to help raise money to benefit Japan. The shirt features the Japanese Version of CGL Unit 03. This is a special unit that was created due to a collaboration with Crazy Go Lucky Advanced Robotics and Japan in wake of the 2011 tragedy. This version of Unit 03 serves as a thank you to Japan and as a tool for them to help recover, rebuild, and be prepared for future disasters.
Ganbare Nippon! translates to "Do your best Japan". Which in this context, is a show of support and encouragement towards Japan.
100% of the profits of this shirt will be donated to help aid disaster relief in Japan.
Due to the pre-order nature of this tee, there will be a 1 time frame to purchase this tee. That time frame would be from April 1 - April 15, 2011.