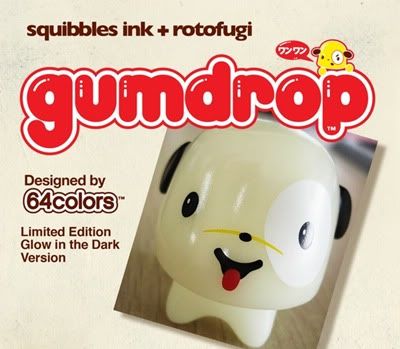 I'm just about to make my way down to San Diego for SDCC, when I see this post on Vinyl Pulse that Rotofugi will be releasing this adorable glow-in-the-dark Gumdrop pup AND these amazing scented Marshalls from 64 Colors! And that's not all.... Eric and Laura will be signing them at the convention!!! Eeeeeee! I am so excited :D

Here's the details, via Vinyl Pulse:
Squibbles Ink + Rotofugi gave us a double dose of SDCC toy releases for their booth (#4736)! They've just released info on a release with the amazing husband and wife duo, 64Colors. With the success of the Marshall series, they noticed something was missing. Marshall needs a pet! Making its SDCC debut is Gumdrop, who stands 2" tall and will be released in a GID vinyl.
That's not all! Also available from 64Colors are the 'Smell Me' Edition Marshall figures! They will be available in a Chocolate, Strawberry, and Marshmallow scents, that's right! These toys smell! This totally changes up the whole 'opening your toys to get a sniff of that vinyl' game. Prices are yet to be determined for these amazing releases, so be sure to keep a few bucks on the side. Eric and Laura of 64Colors will also be signing and sketching at the booth on Saturday, from 11AM-Noon.