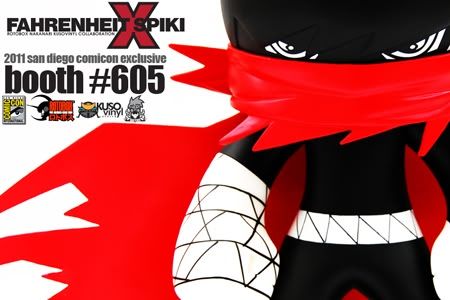 KusoVinyl will be exhibiting at SDCC with some very cool exclusive toy releases.

Here's the details:
The first figure we will release there is the Fahrenheit Spiki. Its the collaboration piece between Rotobox and Maihiro, limited to 200 pcs only. 7 inches tall, comes with 4 swords, a blackboard, and a mini comic. Retail is $65 and will be available at Kuso's booth #605. The creator of Spiki, Nakanari, will be signing the figure at Kuso's booth.

We also have the second release for SDCC 2011: Spiki Chiisai artist series - Thundercraps. Designed by Rotobox, the second collaborative piece between Nakanari and Rotobox for SDCC 2011. 4" tall, Limited quantity available at KusoVinyl booth #605 for $15. There is a chance to pull out a rare chase version of Thundercraps. Nakanari will be at the booth to sign!!