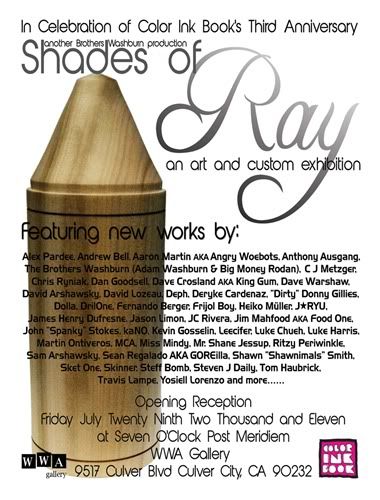 I am a big fan of Color Ink Book- which brings some of my favorite artists together for their coloring book publication. Their 'Shades of Ray' exhibition, celebrating their 3rd Anniversary, opens this Friday at WWA Gallery.

Opening: Friday, July 29th 2011 (7 PM)
WWA Gallery
9517 Culver Boulevard
Culver City, CA 90232

Amazing lineup of artists:
Alex Pardee, Andrew Bell, Angry Woebots (Aaron Martin), Anthony Ausgang, CJ Metzger, Chris Ryniak, Dan Goodsell, Dave Correia, Dave Crosland AKA King Gum, Dave Warshaw, David Arshawsky, David Lozeau, Deph, Deryke Cardenaz, "Dirty" Donny Gillies, Dolla, DrilOne, Fernando Berger, Frijol Boy, Heiko Müller, J★RYU, James Henry Dufresne, Jason Limon, JC Rivera, Jim Mahfood AKA Food One, John "Spanky" Stokes, kaNO, Kevin Gosselin, Leecifer, Luke Chueh, Luke Harris, Martin Ontiveros, MCA, Miss Mindy, Mr. Shane Jessup, Ritzy Periwinkle, Sam Arshawsky, Sean Regalado aka GOREilla, Shawn "Shawnimals" Smith, Sket One, Skinner, Steff Bomb, Steven J Daily, Tom Haubrick, Travis Lampe, Yosiell Lorenzo and more.

Here's some sneak peeks from Miss Mindy & Chris Ryniak!