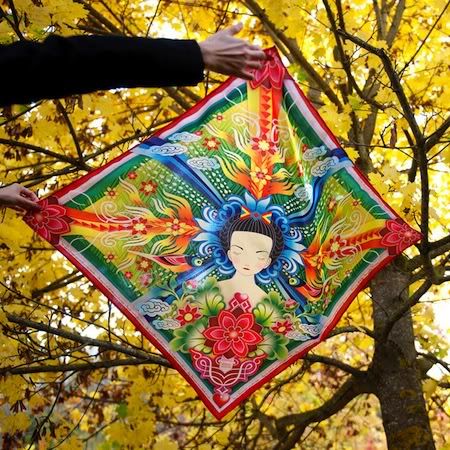 This scarf collection from Catalina Estrada is simply gorgeous!! There's a wonderful cause behind them, as well. You can read more on Catalina's blog post, but here's the idea:

(copied from Catalina Estrada's blog):
After visiting the Rural NGO Laboratorio del Espíritu (directed by amazing Gloria Bermúdez) a few months ago, I was totally in love with their project, it completely stole my heart.

Their aim is to promote local development with activities focused on the value and strength of the rural area and their main base is a Rural Library and Comunitary Center located at Vereda Pantanillo (Municipio de El Retiro – Antioquia, Colombia)

You can check out some of the courses they give at a post on my blog that I published earlier.

Some of the kids attending the Library live in really difficult conditions and have very sad stories in many aspects, and when I read their notebooks I was blown away by the power and strength of their words, their ability to express their feelings in such a transparent way, their connection with nature was mesmerizing and I was absolutely inspired from what I read.

We decided it was time for them to have their own products so that they can collect funds for their cultural activities and all the different courses that they teach to the kids and people around the area.

So I have been working on a series of illustrations inspired on the poetry written by the kids who attend the "Creative Writing" courses given by super talented Javier Naranjo in the Library.

First step is that with this illustrations we are producing beautiful scarfs.

YOU CAN BUY THE SCARFS NOW AT MY ONLINE SHOP www.catalinaestrada.bigcartel.com

100% OF SALES WILL GO TO LABORATORIO DEL ESPÍRITU.