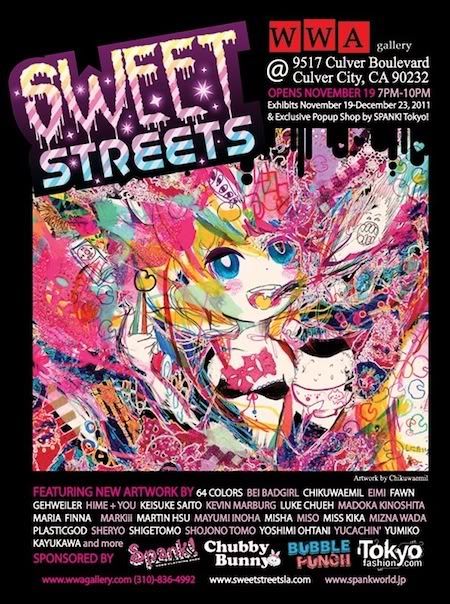 Holy cow, let's take a minute and swoon over the lineup at the upcoming Sweet Streets group show at WWA Gallery. It's basically a list of all my favorites! You can check out some fantastic preview images on the facebook page.

Show details:
November 19 – December 23, 2011
Reception is November 19th, 7:00 to 10:00pm
Spank! fashion show is at 8:00pm

Artist List: 64colors, Abbott Okutani, Aguru Muraki, Angie Mason, Ayami Kawashima, Aya Masuda, Bei Badgirl, Betso, Brent Nolasco, Casey Weldon, Chikuwaemil, Ciou, Eimi, Fawn Gehweiler, Greg Noppe, Harmony Gong, HIME+YOU, Hiromi Sato, Jeremiah Ketner, Joe Simko, Kayo Tamaishi, Keisuke Saito, Ken Garduno, Kevin Marburg, Koralie, Lilidoll, Ludovic, Luke Chueh, Macotic, Madoka Kinoshita, Maria Rozalia Finna, MARKiii, Martin Hsu, Masshiro Obake, Mayumi Inoha, Misato Otake, Misa Tsutsui, Misha, Miso, Miss Kika, Mizna Wada, Naoshi, Natalie Shau, Plasticgod, Rudy Fig, Sam Gibbons, Sheryo, Shigetomo Yamamoto, Shojono Tomo, Suzuki Suzama, Tansy Myer, Yoshimi Ohtani, yucachin', Yumiko Kayukawa, and more!