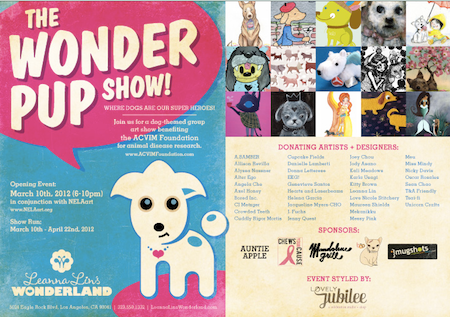 I'm really excited to be a part of the first benefit show of the year at Leanna Lin's Wonderland! I've donated three pieces to this awesome show, benefiting the ACVIM foundation. This was a show that I was really excited to be a part of, as I have always had a dog, and know how much the four-legged cuties can enrich our lives!

RSVP here!

Press Release:
Leanna Lin's Wonderland is excited to curate our 1st art benefit for 2012 called WonderPUP ...where dogs are our superheroes!

100% of the art sales will be benefiting the ACVIM Foundation in honor of our toy poodle, Richy, who passed away in July with an autoimmune disease. I feel blessed to know so many giving, creative talents. Thank you, in advance! *** SHOW RUN: March 10 - April 22, 2012

:: SPONSORS ::
Auntie Apple sweet treats + Drinks
Chews Your Cause pop-up (donating 20% of the evening's sales)
Lovely Jubilee styling the event
Mandoline Grill parked in front (donating 10% of the evening's sales)
Mugshots parked in back from 7-9pm
The Boo is donating 10 bags to the first 10 WonderPUP art purchases
Chews Your Cause is donating 20 dog toys to the first 20 WonderPUP art purchases

:: DONATING ARTISTS + DESIGNERS ::
A.BAMBER
Allison Revilla
Alyssa Nassner
Alter Ego
Angela Che
Axel Honey
Bored Inc.
CJ Metzger
Crowded Teeth
Cuddly Rigor Mortis
Cupcake Fields
Danielle Lamberti
Donna Letterese
EKG!
Genevieve Santos
Hearts and Laserbeams
Helena Garcia
Jacqueline Myers-CHO
J. Fuchs
Jenny Quest
Joey Chou
Jody Asano
Kali Meadows
Karla Usagi
Kitty Brown
Leanna Lin
Love Nicole Stitchery
Maureen Shields
Mekanikku
Messy Pink
Meu
Miss Mindy
Nicky Davis
Oscar Rosales
Sean Chao
T&A Friendly
Tsai-fi
Unicorn Crafts

The ACVIM Foundation is a non-profit organization created in 2000 to support and advance the work of specialists in the American College of Veterinary Internal Medicine (ACVIM): small and large animal internists, cardiologists, neurologists, and oncologists. Because clinical studies in veterinary medicine are severely under funded, ACVIM specialists have long depended on the generosity of private donors and industry sponsors to support their research. The ACVIM Foundation exists to bridge the gap between available funding and the vital work that needs to be done. In addition, the ACVIM Foundation works to fulfill the need to raise public awareness that specialty medicine exists for our beloved companions. Through this education, animals can receive the best healthcare available in order to live longer, healthier lives.