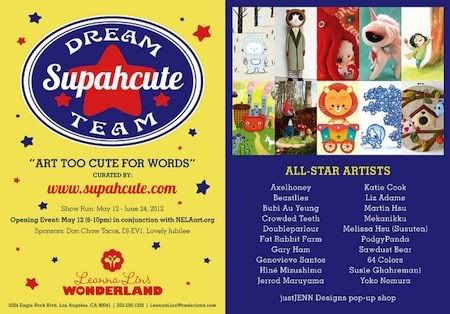 Leanna Lin's Wonderland is always hosting great shows, and I am so excited about the next one, the Supahcute Dreamteam Show! Hana, who curates the Supahcute blog, has fantastic taste and is always blogging great stuff, so I am sure this show will be awesome.
Here's the details from the press release, and two of my favorite pieces from the preview images!
Supahcute Dream Team Show
"Art Too Cute for Words"
May 12 – June 24, 2012
Leanna Lin's Wonderland
Opening Reception: May 12 (6:00-10:00 pm)
Drinks + treats
Don Chow Tacos (7-10pm)
Music by DJ Ev-1
Goodie bags to the first 20 purchases of $25 or more
Event styled by Lovely Jubilee
justJENN Designs pop-up shop
The Supahcute Dream Team includes: Axelhoney, Beastlies, Bubi Au Yeung, Crowded Teeth, Doubleparlour, Fat Rabbit Farm, Gary Ham, Genevieve Santos, Hiné Mizushima, Jerrod Maruyama, Katie Cook, Liz Adams, Martin Hsu, Mekanikku, Melissa Hsu (Susuten), PodgyPanda, Sawdust Bear, 64 Colors, Susie Ghahremani, Yoko Nomura.
I LOVE this piece by Hiné Mizushima
Also, cuteness from Liz Adams!