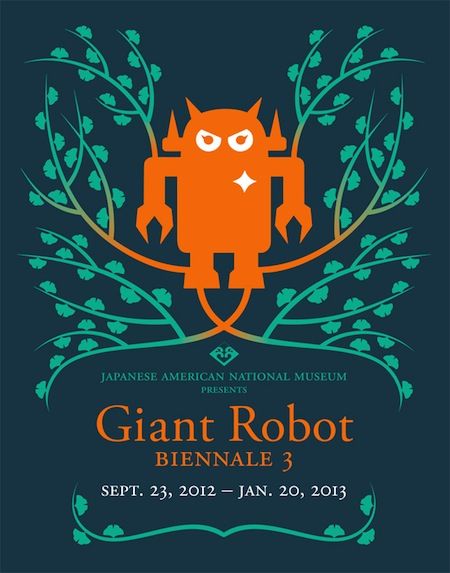 I've long been a fan of the amazing Giant Robot and the fantastic roster of artists they've supported over the years. In fact, they were the first to introduce me to many of my favorites! Their Biennale 3 exhibition at the Japanese American National Museum in Los Angeles is coming up on Saturday, September 22nd, and here's all the details!
GREAT list of participating artists:
64 Colors, A Little Stranger, Aaron Brown, Angry Woebots, Arbito, Atsushi Honda, Aya Kakeda, Bert Gatchalian, Betso, Bigfoot, Brent Nolasco, Bwana Spoons, Camilla d'Errico, Chuckboy, Clement Hanami, Cris Rose, D-Lux, Darth Rimmer, David Horvath, Yukinori Dehara, DrilOne, Edwin Ushiro, Elizabeth Ito, Fakir, Frank Mysterio, Gary Ham, Harpoon, Helena Garcia, J*Ryu, Jason Limon, Jeff Lamm, Jeni Yang, Jeremiah Ketner, Jesse Hernandez, Joe Hahn, Joe Ledbetter, Josh Herbolsheimer, Julie West, kaNO, Kat Brunegraff, Kio Griffith, Kiyoshi, Kohei Yamashita, Koji Harmon, Leecifer, Le Merde, Len Higa, Lou Pimentel, Luke Chueh, Luke Rook, Lunabee, Mari Inukai, Mark Nagata, Martin Hsu, Meat Bun, Miso, Nakanari, Nathan Ota, Nebulon5, Nick Arciaga, Noferin, Okkle, Oliver Hibert, Bob Conge – Plaseebo, Podgy Panda, Reactor 88, Rohby, Sarah Neyhart, Scott Tolleson, Scott Wilkowski, Shane Jessup, Shawnimals, Danni Shinya Luo, Spanky Stokes, Spencer Hibert, Squink!, Stasia Burrington, Susie Ghahremani, Tado, Tara Logsdon, Tiffany Liu, Tristan Eaton, UAMOU, Valerie Gudell, Yoskay Yamamoto.