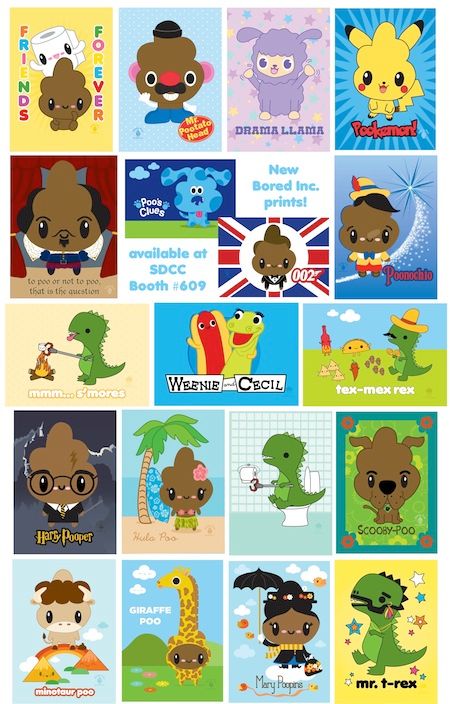 We have lots of fun stuff in store for Comic Con 2013!
Button Scavenger Hunt! We will be hosting a SDCC exclusive button scavenger hunt, along with our pals and fellow exhibitors, I Heart Guts, Mr. Toast, Conduct Happiness, Spicy Brown, and Fat Rabbit Farm. Visit our booth and pick up your collectible card and first button, then visit each of their booths to pick up a button from each, collect all 6 for your Comic Con exclusive superhero button pack! Limited to 100 pieces, 1 per customer.
Bored Inc. Booth #609
I Heart Guts Booth #4433
Conduct Happiness Booth #5249
Spicy Brown Booth #5640
Mr. Toast Booth #5250
Fat Rabbit Farm Booth #4535
Super Cutie Poo! Our exclusive item this year is a special handmade Super Cutie Poo! She has a heart shaped mask, fabric cape with hand-stamped logo, a hand-numbered tag, and comes with a coloring sheet! Limited to 40 pieces total, 8 released per day, 1 per customer, $12.
New Merchandise! We will be unveiling a host of new prints, tees, and magnets! Stop by our booth to check out all our new items. We will post everything new on our website once we return back home, so don't worry if you can't make it to SDCC!