I'm loosing my brain in wonderment at the work of french graphic designer Pulco Mayo (aka Vincent Béchet), especially his embeddable slew of free Moshi Monster characters. His works have spanned the likes of Vodafone, L'Oreal, Eastpack, Coca Cola, Ubisoft, and Toy2r (think, vinyl toy Qee).

Click the link below for amazing screen pics, and more colorful imagery!

From his website:

"Pulco Mayo, a.k.a Vincent Béchet, grew up getting used to the monsters that frightened him. He used this to create a whole collection of atypical and funny characters that fill his world."
Design Supremo is selling 50 limited edition prints, called 'Killer Nanas,' featuring the collaborative efforts of London's Bishbo, and Pulco Mayo.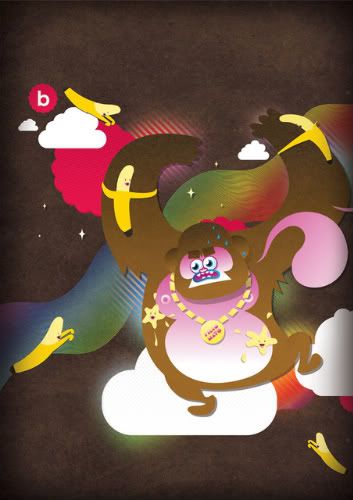 Catch up with Pulco Mayo on MySpace, Flickr, his website and webstore! Oh, and don't forget to drop in and see his incredible line of plushies!