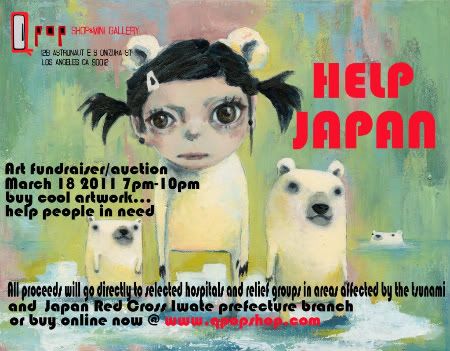 Happening this Friday, March 18th at Q Pop Shop and also online.
Details & Press Release below:

As you all know, a terrible tragedy has hit Japan. The amount of loss and damage is still not known but the casualties are now in the thousands...and believed to be in the ten thousands!!!
This is a terrible reminder that disaster can strike at any minute and it's at times like these that we need to know that people would come to our aid and help us in our darkest hour.
Q Pop is now accepting donations of artwork for this cause. ...We will be selling work online as well as hosting a benefit auction to raise funds for victims of this crisis. We are asking all our talented friends to please donate anything you might have..sketches..full pieces..old stuff..or new....anything you think might be able to raise some money for these people. Timing is important and we'll need to get artwork for this as soon as possible. If you can send scans or digital files first that would also help so that we can put work online immediately for sale.I know a lot of you are busy with your own lives...but please take a little time to do something that may help people survive.

ALL proceeds will go to select local hospitals, shelters, and relief groups in all affected areas in Japan. Donate with 100% confidence your money will go to where it's supposed to and not get tied up somewhere.

You can email me at : chris@qpopshop.com or call the shop at 213-687-7767...with questions or donations..

our shipping address is :
Q POP
128 Astronaut E S Onizuka st
Los Angeles Ca 90012

works will be sold online at : www.qpopshop.com
go to the store and find HELP JAPAN

Silent Auction will be held Fri March 18 from 7PM-11PM

TUNE IN TOKYO spinning some tunes
live music from Dig Jelly doing an acoustic set
Stephanie Yanez and guitarist Po Lo
refreshments will be available

$5 donation per person requested at the door (all will go to charity)

some participating artist:

Junko Mizuno
Don Shank(Pixar)
Scott Morse(Pixar)
Stef Choi
Frank Gibson and Becky Dreistadt
Chris Battle( Power Puff Girls, Samurai Jack)
Kris Pearn(Cloudy With a Chance of Meatballs)
Jack Hsu(Spiderman 2)
Carey Yost( Power Puff Girls, Ren and Stimpy, Samurai Jack)
Lou Romano( The Incredibles, Up, Ratatouille)
Mari Inukai
Kent Williams
Yoskay Yamamoto
Asami Ando
Chris Reccardi(Ren and Stimpy, Power Puff Girls, Samurai Jack,)
Lynne Naylor-Reccardi(Ren and Stimpy, Samurai Jack,)
Elizabeth Ito
Hideyuki Tanaka( Super Milk-chan creator)
Luca Tieri
Naoshi
Denise Nagi Koyama
Casey Alexander(Spongebob)
Kali Fontecchio
Alex Kirwan
Leticia Lacy
Michelle Romo
I Heart Guts
Martin Hsu
Jeff Ranjo(Surf's Up, Meet the Robinsons)
Steve Anderson(Winnie the Pooh, Meet the Robinson's)
Santino Loscano(Adventure Time, Ricky Gervais show)
Irene Yuen
Drake Brodahl
Desi Moore
Oliver Akuin
Tohru Patrick Awa
Sandra
Valeri Durham
Carolyn Suzuki
Joseph Holt
Shawnee Holt
Ciro Nieli (Teen Titans, Super Robot Monkey Team Hyper Force Go!)
Dan Krall( Samurai Jack, Chowder, Power Puff Girls)

If you can't make it to the auction or event or don't wish to purchase anything...please donate anything to a charity that is helping out. There are many out there so be careful when doing so to make sure your money goes to the people that need it.