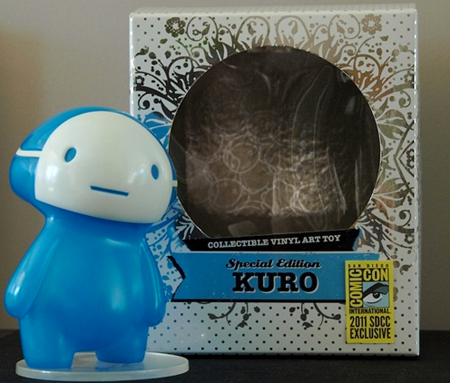 I love Camilla d'Errico's toys! I am excited to see this SDCC release.

Via Vinyl Pulse:

Camilla d'Errico will release her new Kuro vinyl toy from Inner Sanctum @ SDCC. Regular ($29.99), DIY ($25.99) as well as the SDCC Exclusive Blueberry GID (100 pcs, $59.99) will be available from her booth (#4723).
While the regular and the DIY will be available from Camilla's online store and select retailers after the show, Kuro purchases at the show will include an exclusive collectible card as well. Speaking of SDCC awesomeness, Camilla is now accepting pre-orders for customized DIY Kuros ($25.99 + $25) for pickup at her booth during the show. If you're interested in a custom, please drop a line to cderricostore [at] gmail [dot] com. Be sure to check out Camilla's blog for a full run-down of her SDCC plans including info on ordering a custom sketch.