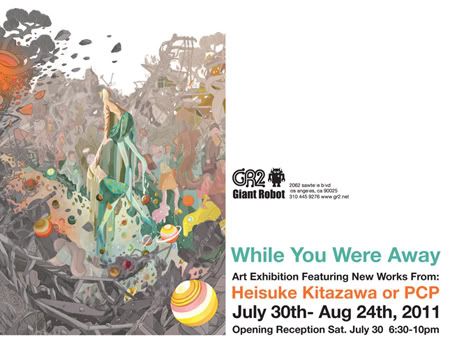 Excited to see one of my favorite artists returning for what is sure to be another amazing show at GR2!

From the press release:
Heisuke Kitazawa or PCP Art Exhibition – While You Were Away

July 30 – August 24th, 2011
Reception: Saturday, July 30, 6:30 – 10:00 pm

GR2 2062 Sawtelle Blvd.Los Angeles, CA 90025

Heisuke Kitazawa or PCP lives near Tokyo and will be at this exhibition in person.
After living in LA for 16 years, moved to Tokyo where he works as freelance illustrator / designer. he's worked on projects for Kenzo perfumes, Guardian news paper, music video for Yo Gabba Gabba! , and murals for Weller Court in LA, Hotel Tomo in San Francisco JR Tokyo station in Japan.

A few words from Kitazawa explains the exhibition, "While You Were Away is about loneliness – being alone, feeling alone, and communicating/coping/befriending with our loneliness. We all feel lonely sometimes. it doesn't matter if we are living happily with family, friends, virtual friends, cats and dogs included, loneliness sneaks in like ants and mosquitos in my apartment."

But loneliness is not necessary bad, because we can only face ourselves in our loneliness, and it's the only way to better understand who we are. so these are the results of my loneliness, but by sharing them with you, i no longer feel alone.