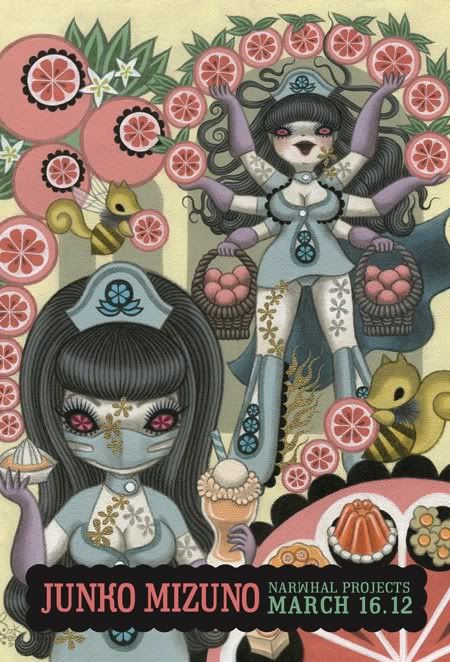 There's a fantastic new solo exhibition by Junko Mizuno happening right now at Magic Pony's Narwhal Projects. Runs through April 20th.

From the press release:
VENUS CAKE
Junko Mizuno Solo Exhibition
Narwhal welcomes Japanese artist Junko Mizuno for her second Canadian exhibition Venus Cake : Junko Mizuno's Food Obsession. As the first body of work in her Food Obsession series, Mizuno takes us through a personal, psychedelic journey through delightfully dark food fetishes from an ornate whipped cream Ouroboros to fish carved sushi schoolgirls and a sadistically delicious pancake kitchen. With a decorative graphic sensibility that evokes both American and Japanese pop culture, Mizuno combines cuteness, gore and eroticism within an oeuvre that includes comics, painting, drawings, animation and toys. Influenced by vintage shojo manga, folktales, horror and pop art, Mizuno creates fairy tales where erotically adorable pin-ups prance naively through imagined worlds, battling and cohabiting with the dark energy that surrounds them. With realized sexuality, hunger and violence, Mizuno's girls combat fatal relationships with desires and demons. Playing off our fascination with the cute and the macabre, strong-willed vixens flaunt their charms, and fight for their beliefs, misfit protagonists for the modern day woman.