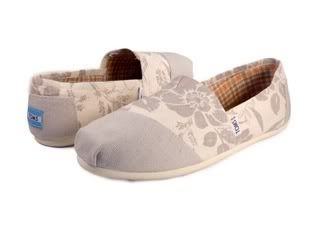 Toms makes my favorite shoes (and boots). For every pair of shoes you buy, they donate a pair to a child in need.
I wear Toms every day- I have 3 pairs that I rotate. I wore my last ones out so well that there was barely anything left of them! I also have a pair of ankle boots that I ADORE!

They've just released their Spring Collection and I am already eyeing a few new pairs. I am especially loving the striped / solid / rope ones!

Toms makes shoes for Women, Men and Kids/ Babies. See them all, and read about their amazing shoe drops, here.