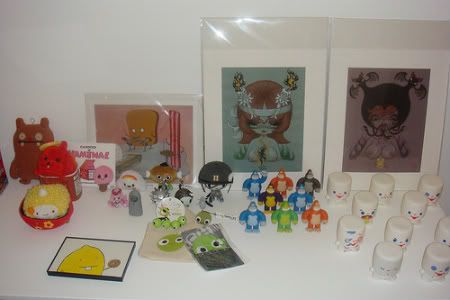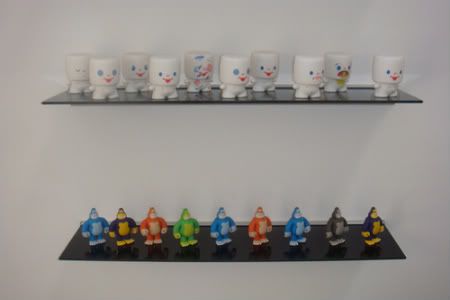 This was the best year of SDCC I have ever done. People showed me so much love and were so kind with their encouragement! Being a self employed artist means I don't often get feedback, so going to a show and being so supported is just amazing. Thank you, thank you, thank you to everyone who came to the Bored Inc. booth! It's because of all of you that I get to do what I love!
It wasn't all work- I did manage to sneak away for a bit and score some goodies! I got two prints from
Junko Mizuno's 'Tender Succubus' show at Gallery Nucleus
(now I have all 3!), lots of
Marshalls by 64 Colors
,
James Jarvis' King Ken
from
Strangeco
, the TokiDoki SDCC colorways of Captain Coco and Skeletrino and Skeletrina, a print and an original
Mr. Toast
, and a super cute pea goodie bag from our pals at
Conduct Happiness
.
Two of my biggest scores came from
Kid Robot
. I've hated on the attitudes of their employees in the past, but I have to say that the people working the booth at Comic Con this year were SO nice, and even let me trade my duplicate Junko Mizuno
'Pure Trance'
Umeko & Takeko duplicates for Rika! So stoked! I also got a few of the new Tado
Fortune Pork Plush
and also got Cloak from
Cannibal Funfair
.
I'll upload more pics soon, and I am working on getting all the new product onto my site. A lot of stuff sold out, so if you don't see what you are looking for, be patient, I just have to make more!