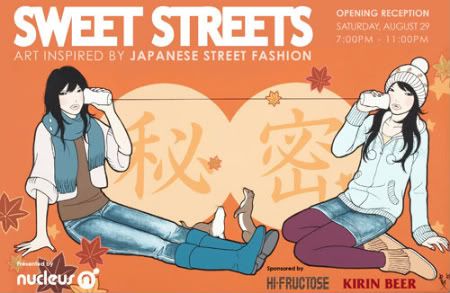 Another great show opens this weekend at Gallery Nucleus. 'Sweet Streets' is inspired by Japanese street fashion, and features work by some of my favorite artists!

SWEET STREETS
August 29, 2009 – September 14, 2009
Opening Reception, August 29th 7pm - 11pm

From the Press release:
By combining traditional and modern styles and breaking away from conventional trends, the youth of Japan have blazed a fashion movement. Adding their own creative touches by mixing old with the new while customizing and combining the homemade with designer labels, their look result in the unexpected and avant-garde and in turn created a truly diverse subculture. Art-inspired fashions and fashion-inspired art is one of the most creative symbiotic relationships of our generation.
Co-Curated by CARO, and sponsored by Hi-Fructose Magazine and Kirin Beer, this show will feature work by some of today's top emerging artists representing their own original take of the infamous and eccentric fashion movement that continues to evolve.

Come out to Nucleus for the celebration of breaking new grounds in creativity and to dive into the SWEET STREETS of Japan.

Opening Night features include:
Free exhibition music samplers to the first 100 attendees.
Dress up to receive 15% off select store merchandise.
Artist & 'Harajuku' models in attendance.
Music from the streets of Tokyo.
Free refreshments provided by Kirin Beer.
Free snacks served.
Admission is free.

Artists include:
Yumiko Kayukawa, CARO, Junko Mizuno, Angie Mason, Yoko d'Holbachie, Elizabeth Ito, Mizna Wada, Tiffany Liu, Hideo Okamoto, Griselda Sastrawinata, Kevin Dart, Fawn Fruits, Tessar Lo, Stef Choi, Tokidoki, Anna Chambers, Kozyndan, Mari Inukai, Karen Chau, Jeremyville, You Byun, Attaboy, Lauren Gregg, SKAFFS, Kirsten Ulve, Thomas Han, Tim Biskup & Tigerlily, Danni Luo

& many more!