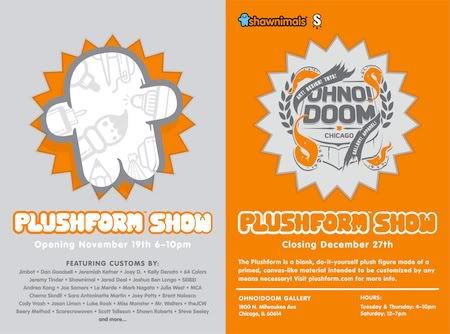 This show looks great, so many cool artists!
Opening reception November 19th 6-10 pm

From OhNo!Doom:
Shawnimals and Squibbles Ink have teamed up with OhNo!Doom in Chicago on this custom toy show with Plushform. Plushform is an, open-ended blank plush platform toy (think Kidrobot's Munny, but softer...). Artists from around the world were invited to participate, each with a unique style that will not only show off the amazing talents of each artist, but also the versatility of the Plushform as a blank toy medium.
Who's showing?
Jimbot, Dan Goodsell, Jeremiah Ketner, Joey D, Kelly Denato, 64 colors, Jeremy Tinder, MCA, Shawnimal, Jared Deal, Josh Longo, Andrea Kang, Joe Somers, Le Merde, Mark Nagata, Julie West, Chema Skndl, Sara Antoninette Martin, Joey Potts, Cody Vrosh, Jason Limon, Miss Monster, Mr. Walters / Nerfect, Nick Beery, Scarecrowoven, Scott Tolleson, Shawn Roberts, Steve Seeley, theJCW, Luke Rook / Grody Shogun, David Murray and more.

Check out the amazing piece by 64 Colors!