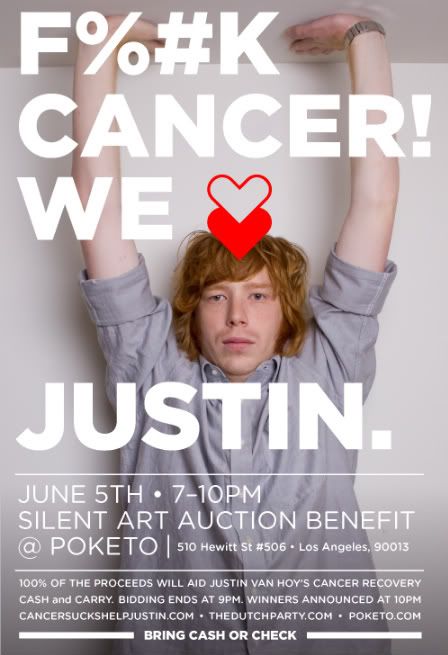 Art for a cause is the best kind. If you are in Los Angeles, please attend Poketo's 'F%#K Cancer! We Love Justin' benefit tomorrow night.

Details here.

There's an amazing list of participating artists, including:
Shepard Fairey, Saelee Oh, Jeana Sohn, Travis Millard, Mel Kadel, Marco Zamora, Ye Rin Mok, Studio Number One, Sumi Ink Club, Chris Bettig, Sarajo Frieden, Kim Buzzelli, Sheli Ben Ner, Casey Ryder, Saejeen Oh, Skyrocket Studios, Ashkahn, Leah Chun, Bill McRight, Josh Hart, Derek Albeck, Ernesto Yerena, Jesselisa Moretti, Kristian Henson, Zach Gibson, Jeremy Baker, Phillip Lumbang, Matt Goldman, Florencio Zavala, Marissa Textor, Jordan Isip, Damion Silver, Josh Cochran, Caroline Hwang, Amanda Visell, David Weidman, Katsuo Design, Jared Purrington, Blake E. Marquis, Michael Coleman, Ryan Callis, Jason Filipow, Tim Biskup, Ramis Kim, Melissa Contreras ALSO, goods from Poketo, Obey Clothing, and prints from Mike Giant, Dalek, Saber, Jim Houser, and more.